Smart Maintenance Solutions
Our smart maintenance solutions include cutting-edge technology systems that maintain passenger security at the highest level and re-activate our elevators in the shortest possible time in cases of malfunction. They notify building authorities and our technical service teams of the troubles in the building flow instantly. Thanks to our smart solutions, passengers are also saved from the stress of being stuck in the elevator during electric cut-outs.
Automatic Saving System
Envisioning possible problems that can occur during the elevators' movement and solving them at the earliest is one of our most prominent safety strategies. The Automatic Saving System we developed in this direction is a smart service solution that enables the passengers leave the cabin immediately with no risk to their lives or well-being during blackouts.
Automatic Saving System in 5 Stages
- The system takes over when a mains power outage occurs and immediately by-passes city electricity network for security reasons.
- It provides the elevator with the energy required for the saving process.
- The elevator reaches the floor using the energy supplied by the system and opens its doors to enable passengers to leave the cabin safely.
- The system keeps elevator doors open to ensure safety until the power outage is over.
- When the city electricity is back, the system closes the elevator doors in a controlled manner and deactivates itself.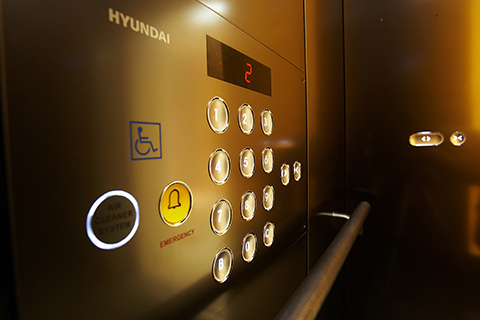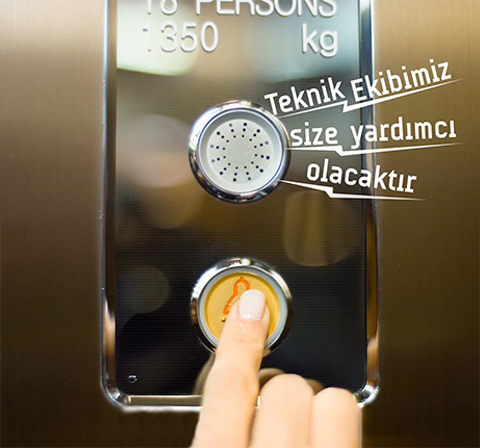 Alarmed Warning System
The system facilitates an audio and visual warning when the passengers within the cabin hit the "Alarm" button and sends it to a computer in the buildings security office or control room. The security units are instantly informed.
The Alarm Warning System simultaneously notifies our technical team, enabling them to intervene to the situation in the fastest and most practical manner.
Mobile Application
Our technologies connect spaces to people in the smartest and most efficient ways.
We developed a mobile application that allows the passengers to call for and keep track of the elevator on their way, using their smart phones. The application can be integrated with many different smart building and house automation systems. In buildings where HELIAS system is in use, passengers can be guided to their optimal cabin in terms of riding and waiting time through their screens.